GI Research Conference
Microbiome Medicine Seminar Series
Center for Interdisciplinary Study of Inflammatory Intestinal Disorders
Section of Gastroenterology, Hepatology, and Nutrition
Department of Medicine

Ashley Sidebottom, PhD
Metabolomics Platform Director
Host-Microbe Metabolomics Facility
Duchossois Family Institute
The University of Chicago
"Metabolomics of the microbiome"
Thursday, September 28, 2023
1:00 pm – 2:00 pm
Knapp Center for Biomedical Discovery (KCBD)
First floor auditorium
Room 1103
Refreshments provided.
To join via Zoom:
https://ucmedicinegroup.zoom.us/j/94456508173?pwd=N0xVbXcxMUdaYXM2NFdkOUhldGFSdz09
Meeting ID: 944 5650 8173
Passcode: 96836698
Newsletter
To learn more about the recent highlights of the the C-IID access the C-IID 2023 Winter Newsletter.
Animal Resources Center receives $7.9-million grant from National Institutes of Health
The National Institutes of Health awarded the Animal Resources Center a $7.9 -million grant that will fund the expansion of the Gnotobiotic Research Animal Facility. Read More.
C-IID Member Accolades
Dr. Valerie Abadie awarded the 2023 Celiac Disease Foundation Young Investigator Prize for Basic Science
Congratulations to Dr. Abadie (2018 C-IID Pilot & Feasibility Recipient) on being awarded the 2023 Celiac Disease Foundation Young Investigator Prize for Basic Science. Dr. Abadie was awarded for her novel research on the development of the first pathophysiological murine model of celiac disease and identifying immune mechanisms in celiac disease pathogenesis. She was formally recognized at the Celiac Disease Foundation Award Reception during Digestive Disease Week in Chicago, IL. Read more.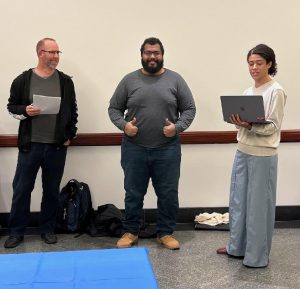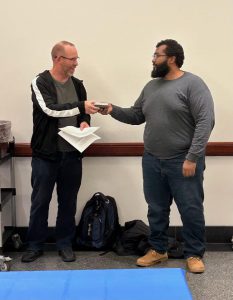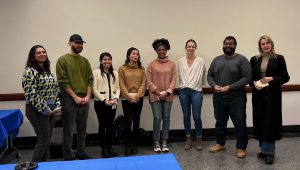 Congratulations to Joash Lake (1st picture, center), graduate student in immunology in Dr. Eugene B. Chang's lab, on being a recipient of the 2022 Biological Sciences Division, Diversity, Equity, and Inclusion Award. Joash was awarded for his service and contributions to the university and community at large. Joash serves on the board of the Black Grad Coalition, where he helps to create inclusive and safe spaces for black professionals at the university and works with non-profit organizations such as Target Hope, that aim to increase the number of under-represented communities to pursue higher education. He has also served as a CAMPII mentor, a program that aims to help increase the recruitment of minority students into STEM fields.